Environmental Horticulture
Department characteristics
Point1  Solid education cultivated by more than 40 years of tradition
In Minami Kyushu University, we have engaged in the characteristic education focusing on horticulture and gardening for more than 40 years. The Miyakonojo Campus that was newly opened in 2009 offers a great educational environment, where the students learn to become a creating specialist, who is involved in vegetation, equipped with sensibility and scientific knowledge, as well as deep understanding of the importance of coexisting with nature and creatures.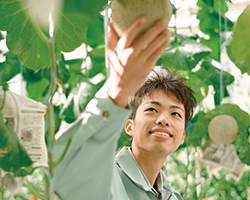 Point2 5 major fields to meet each student's need
The department consists of 5 major fields specified in pages 4 and 5. Each major field is not divided into academic disciplines so that the students are able to explore in a variety of study area. For example, a student studying flowers is also able to study natural environment in Miyazaki at the same time. Our educational policy enables the students to extend their intellectual antenna to multiple directions.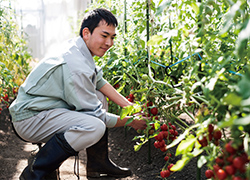 Point3 Modern and functional facilities and services
The student labs are the place where they practice the knowledge and technologies learned in the classrooms as practicum. They are organized by different areas, such as horticultural production environment, plant bio, breeding, and natural environmental system. The labs are equipped with modern facilities, including DNA sequencer for gene analysis, high-performance liquid chromatography for botanical ingredient analysis, and element analysis equipment that is essential for the environmental analysis.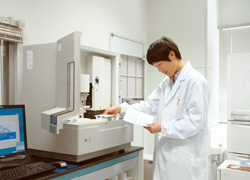 License/credentials available to acquire
High school teaching license class 1 (Science)
High school teaching license class 1 (Agriculture)
Junior high school teaching license class 1 (Science)
Curator
Land surveyor (sub)
Tree surgeon (sub)
Community gardener
Gardening décor technician
Landscaping technician
Nature restoration promoter
Green advisor
Promoter (4 years or more work experience)
Japan agricultural technology exam (Level 2/3)
Gardening supervising engineer Level2 (1 year or more work experience)
Gardening supervising engineer Level 1 (3 years or more work experience)
Soil engineer exam (Level 2/3)
Biotope planner Level 2
Biotope builder Level 2
Biotope planner Level 1 (7 years or more work experience)
Biotope builder Level 1 (7 years or more work experience)
Registered landscape architect ( 5 years or more work experience)
Professional Engineer (sub)
Level 2 Exterior planner