Miyakonojo Campus
A vast field where learning of "nature", "human", and "community" leisurely cross each other
The Miyakonojo Campus is located in a vast field surrounded by rich nature in southern Kyushu, Miyazaki, which is a treasure house of natural lives. In this great environment that is relaxed yet equipped with modern facilities, the students will develop a humane skills that is necessary to engage in child education as well as sensibility to coexist with nature and creatures.
Characteristics of Miyakonojo city
The population of Miyakonojo city exceeds 170,000, that is ranked 3rd in southern Kyushu, following Kagoshima city and Miyazaki city. The city is the core of regional transactions playing the central role in industries, economic activities, education and culture. It is a traffic strategic spot in southern Kyushu as well as the center of the economic sphere holding a population of 250,000.
Access to Miyakonojo city
Facilities
It is a place where "nature" and "humans" are blended in each other. It aims to be a university that is open to the community.
After the foundation of the Miyakonojo Campus in 2009 with the cooperation of Miyakonojo city, the Human development department was open in 2010 in addition to the Environmental horticulture department. Aiming to be an open campus to the local community, it is designed with new ideas in a 21st century style where nature and humans are blended in each other. The university is equipped with a main campus, an extensive field center, a ground, and a healing garden to which the local residents have free access.
Building No.1-5(Photo: Building 5)
In the building for lectures and practical training, the students engage in various experiments and practices. Especially the experiments using the latest facilities in the Environmental horticulture department are attracting attentions from various quarters.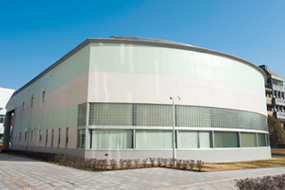 1F Lobby of the Main building
There are laboratories in the main building, which is a landmark of Miyakonojo city.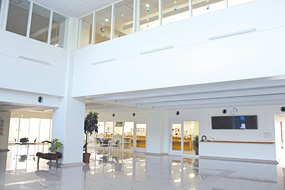 Library(2F)
The library has more than 100,000 items. Their books and materials are also available to the general public.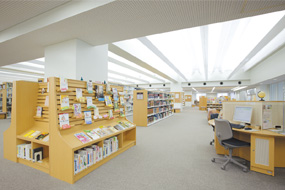 ePortfolio room(3F)
It is a PC room located on the floor for the Child education department. It is used not only for lectures and self-study, but for checking/reviewing the courses to be taken.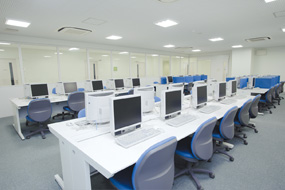 Arts and crafts room(4F)
The students learn to have the skills and creativity for arts and crafts in general, from drawing to woodworking.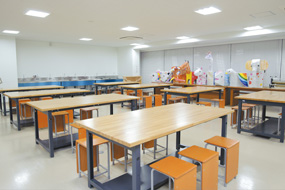 Play room 2 (4F)
There are trampoline and balance beam in an open space with a lot of natural lights. They are used for dance, gymnastics, and play therapies.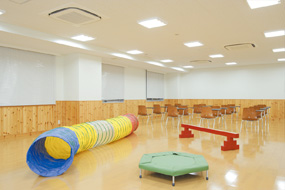 Baby care self-study room(4F)
The students practice holding a baby, bathing, and changing diapers in preparation for the childcare practical using a baby doll.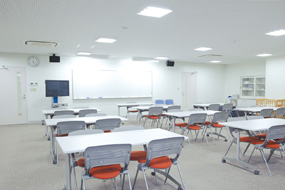 Science laboratory(5F)
The lab is equipped with the facilities to be used in science experiments in elementary schools and modern video equipments. It is our strength to train the students this way to be a teacher with an advantage in scientific subjects.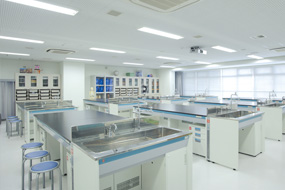 Test nursery(5F)
The room is made as a replica of kindergarten/childcare center with wooden toys and Montessori teaching materials for the students to practice in quasi settings.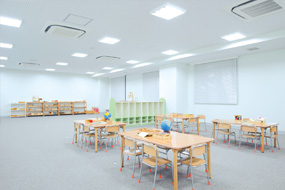 Classroom laboratory (5F)
It is fully equipped with various materials and the latest information technology device used in elementary school classes. The students learn how to chalk talk in preparation for practice teaching in real settings.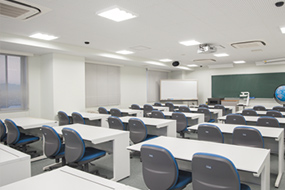 Homemaking laboratory(5F)
It is used for practicum of homemaking courses such as cooking and sewing. The students will learn dietary education and necessary nutrition depending on different stages of the child development.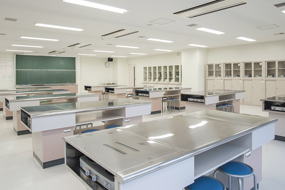 Music room (2F)
In addition to 50 digital pianos for the students to study in class and use for voluntary practice, there are rooms for private lessons.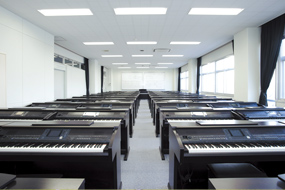 Laboratory(1F)
This facility equipped with the latest experiment devices is mainly used by the students of the Environmental horticulture.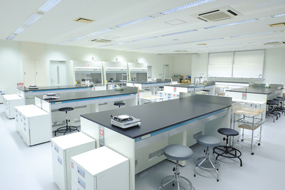 Drafting room(1F)
This drafting room, located on the 1st floor of the Building No. 5, meets the needs for any types of drawing preparation.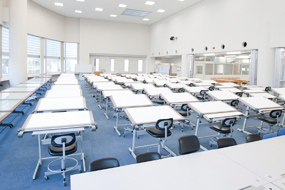 Computer lab(2F)
There are 60 PCs for the students to use in this room.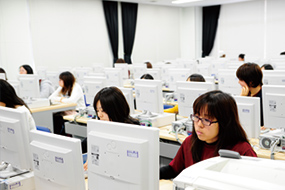 Hibari building
In this building of a unique shape, there are rooms for clubs/circles operating in the Miyakonojo Campus.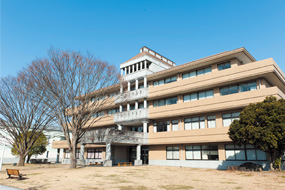 Environmental education center
This is a place to develop and practice the environmental education programs that utilize the local life and nature in the surroundings. The pictorial books and textbooks are also available for browsing.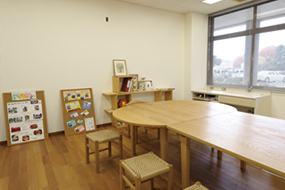 Childcare support center
This is a facility where the students and the families in the local community may interact. Opportunities to participate in play workshops and to hold counsel with clinical psychotherapist on child-raising issues are also available.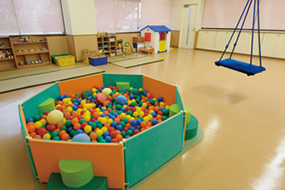 Student union building (Cafeteria)
There is a cafeteria and a convenience store in this facility. Some students enjoy having lunch on the terrace on a nice sunny day.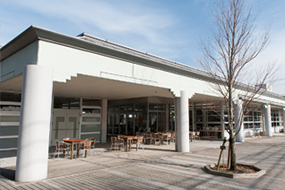 Student co-op (shop)
It is located in the student union building. The shop carries an extensive range of goods.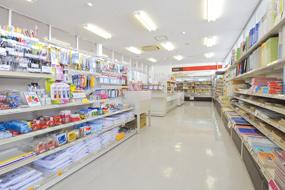 Student cafeteria
It is a very popular café among the students, offering the lunch of the day as well as a variety of menus with low price.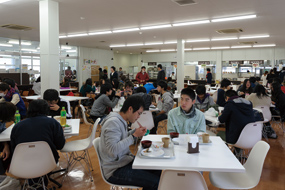 Field center
On the site of about 3 hectares adjacent to the campus, there are 24 greenhouses, an experiment field, an arboretum, and a compound practical building.