Food science and technology
Department characteristics
Point1 Deepening the existing food manufacturing study and making a leap forward
In addition to the existing study for the food manufacturing field, the students in the Department of Food science and technology will deepen their understanding of the food safety and functionality, and further learn this area from the consumers' point of view. The students will learn how to "manufacture" food products through the curriculum that corresponds to the current social background, such as diversified and more sophisticated consumer needs for food, hygiene issues, and structural change of the food business.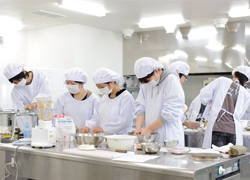 Point2 What is food specialist?
The educational goal of the Department of Food science and technology is to foster food specialist. The food specialist is defined as a person who has both the manufacturer's and the consumer's point of view and pursues safety and security of food. Furthermore, a food specialist needs to be a person who captures "health" in the context of the food products, and who is equipped with high skills and ability to find and solve problems.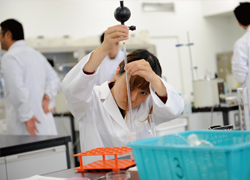 Point3 Various practical certificates in specialized fields are obtainable
The students will obtain the national qualification for food sanitation supervisor and food sanitation inspector upon graduation. They may also obtain teaching license to teach at agricultural high school, junior high school (science) and high school (science). In addition, the students are qualified to take private sector accreditation exams for food specialist and certified health food manager, which are attracting more applicants in recent year, while in school. In this school, they will be trained to take advantage of these certifications in the real world.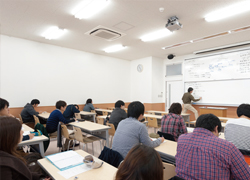 License/credentials available to acquire
High school teaching license Class 1 (Science)
High school teaching license Class 1 (Agriculture)
Junior high school teaching license Class 1 (Science)
Food sanitation inspector
Food sanitation supervisor
Qualification to take accreditation exams for food specialist
Qualification to take accreditation exams for certified health food manager